The experience of MOTIVA in the use and management of a technology-based simulation centre
The design and creation of a virtual simulation center is always a forum for debate in which each healthcare specialist wishes to see his or her area of clinical activity represented. In these cases, thinking from a technological point of view could converge all clinical areas in a common simulation space useful for all healthcare specialties. Our model, called MOTIVA, proposes
a cooperative approach to healthcare education based on technology and its transversality
and is an example of a virtual simulation center that occupies all the links in the healthcare training chain: students, residents and specialists.
What is MOTIVA?
MOTIVA is a regional technological plan created more than 15 years ago. At the beginning, MOTIVA addressed several areas of minimally invasive and reconstructive surgery, but, finally, it concentrated all its activity on health education and training.
We represent our philosophy in healthcare education and training as an "Academy" to which members of the clinical community come for the ultimate purpose of education.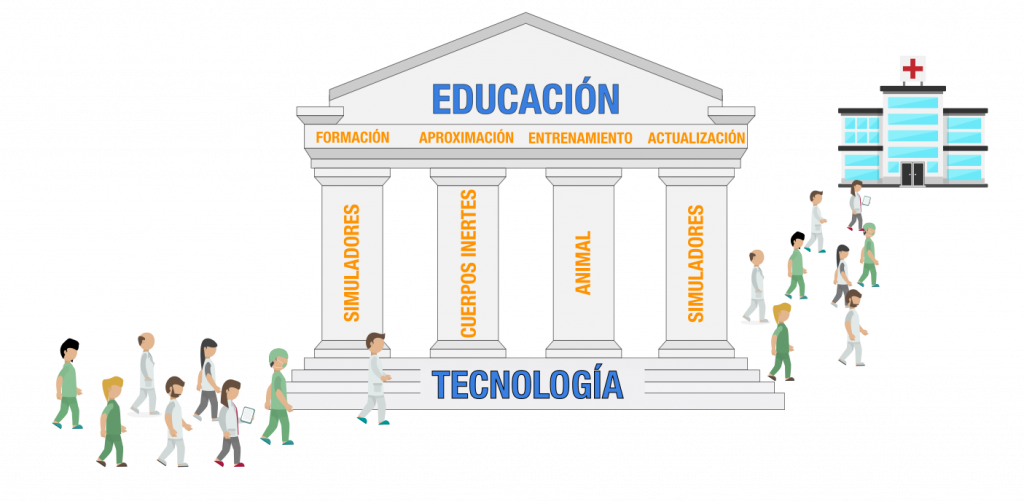 This education is supported by four educational objectives: (1) training to acquire knowledge, (2) updating this knowledge based on technological development, (3) training to become qualified or acquire the necessary skills, and (4) approaching the human body as a system for applying this knowledge.
These objectives are supported, in turn, by different educational supports that can be used individually or in combination: simulators, experimental operating rooms with animals and cadavers.
The access stairs to this "Academy" represent the technology that helps students, residents or specialists to achieve their educational objectives in order to apply them in healthcare centers (hospitals, health centers, etc.).
What do we mean by education?
In our approach, we understand health education as a chain that connects from the undergraduate stage to the health specialist stage. In this context, MOTIVA uses different types of technology to, in a complementary way to the training received in the teaching programs of each stage, bring students closer to their best educational outcome.
In our approach, we understand that the main objective of a simulation center must be the patient. Safety and patient care are the reason why we use technology-based simulators with students, residents and specialists. For our group, simulation is the common thread that links the levels of education in the healthcare career.

Within this framework, we use immersive virtual reality for undergraduate students and virtual simulators for residents and specialists.
In the case of medical students, we are interested in bringing them closer to the sick, using virtual scenarios where they can do dissections, to learn human anatomy, and interactions with virtual patients to learn clinical procedures.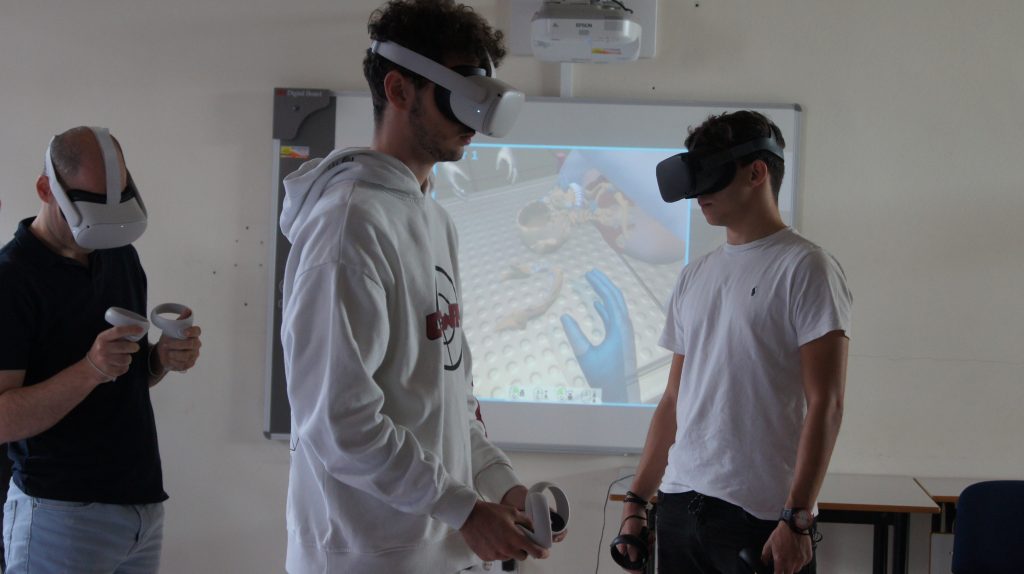 For residents and specialists, we specialize in teaching and training minimally invasive procedures using computer-based virtual simulators.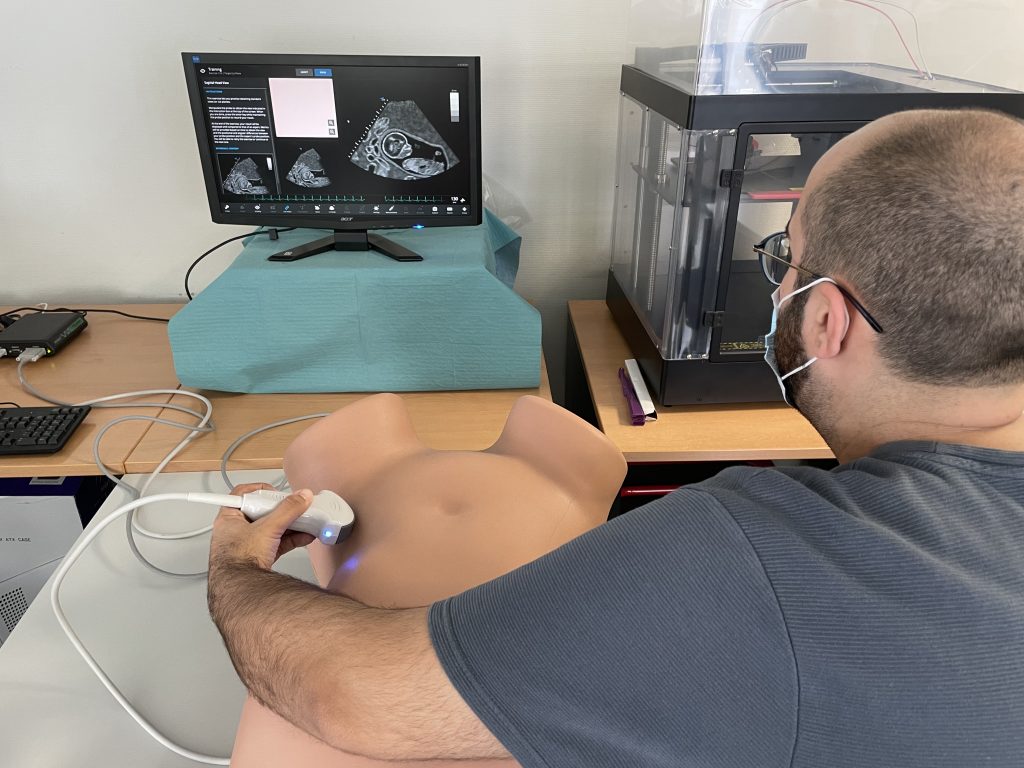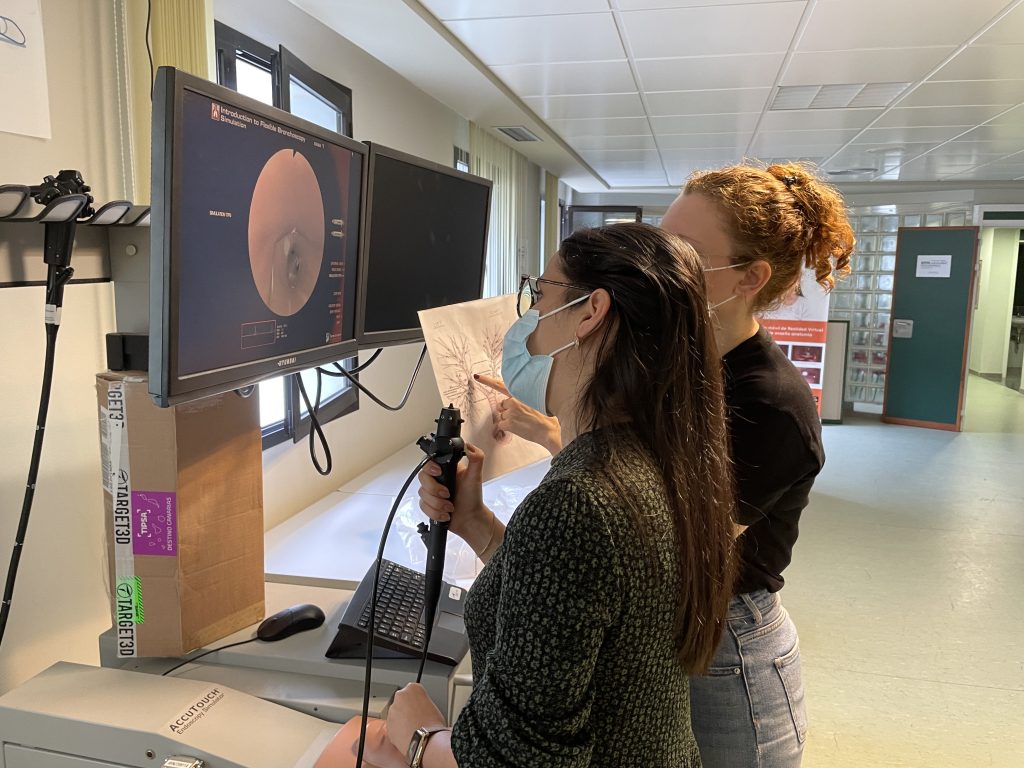 In both cases, computer-based technology allows us to measure metrics of the attendees when they are performing the simulation. These metrics help to assess the skills of the users and obtain an objective evaluation of their knowledge of the proposed topic or technique.
The MOTIVA approach
Tech-based Transversal Thinking is the motto underlying our MOTIVA approach to healthcare education and training.
The first concept of this motto refers to the term technology (first "T" of this motto in English), and is based on the following ideas:
We use technology that teaches technology. The main clinical procedures are based on the use of various types of technology. Education in the technology itself is fundamental to understanding and applying the technique.
We use computer-based simulators because they save time for the clinical expert. Computer simulation technology allows us to measure what the trainee does considering the constraints set by the clinical experts. Therefore, expert trainers do not have to be present for the entire simulation session, using their time optimally.
Computer-based simulators return an objective evaluation of the task performed by the trainee. Therefore, the simulator itself can help us to know the acquisition and evolution of the user's knowledge.
We include our own developments in computer simulation in our educational activities. Technology-based simulators are easier to include in our educational activity.
The second concept (second "T" of the slogan) is the transversality of our technology implementation. This means that:
We develop, or acquire, simulators keeping in mind that several clinical procedures use the same technology. Therefore, the same computer-based simulator can be adapted for many healthcare areas/specialties.
The transversality of the technology encourages R&D&I.
And finally, the third concept included in our motto (the third "T" in English) refers to the mindset we propose for a virtual simulation center. In this case, we mean that the virtual simulation center, especially a technology-based simulation center, must be managed from a technological point of view focused on clinical objectives. This way of thinking makes it possible to configure, adapt and understand how healthcare specialists use medical technology and, in cooperation and fluid communication with them, to achieve the center's teaching objectives.
Conclusion
We would like to conclude this article with a phrase that we always keep in mind in our group: in healthcare simulation, nothing is assumed, everything must be verified.
READ ALSO