From basic skill training to robotic surgery to ensure the highest level of patient safety in the region: the RMK AIMES
Rahmi M. Koç Academy of Interventional Medicine, Education, and Simulation (RMK AIMES) is dedicated to not only serving Koç University medical and nursing students and Koç Healthcare medical professionals, but also the entire region's healthcare workforce. The center offers different simulation and advanced training modalities, to provide the best level of healthcare and to ensure the highest level of patient safety.
Established as a non-profit institution in late 2018 as a Vehbi Koç Foundation Healthcare Organization, it is located at the Koç University Medical Sciences Campus, Topkapi, within the Koç University Hospital compounds, in the European side of Istanbul.
Spaces
Encompassing 5 floors and 6,500m2, RMK AIMES is equipped with outstanding infrastructure and technology to accommodate all types of healthcare providers. Each floor is dedicated to different training modalities. The state-of-the-art facilities are suitable and flexible in terms of design to support a broad spectrum of educational activities, all forms of under and postgraduate simulation-based education for any healthcare practitioner, specialist or team.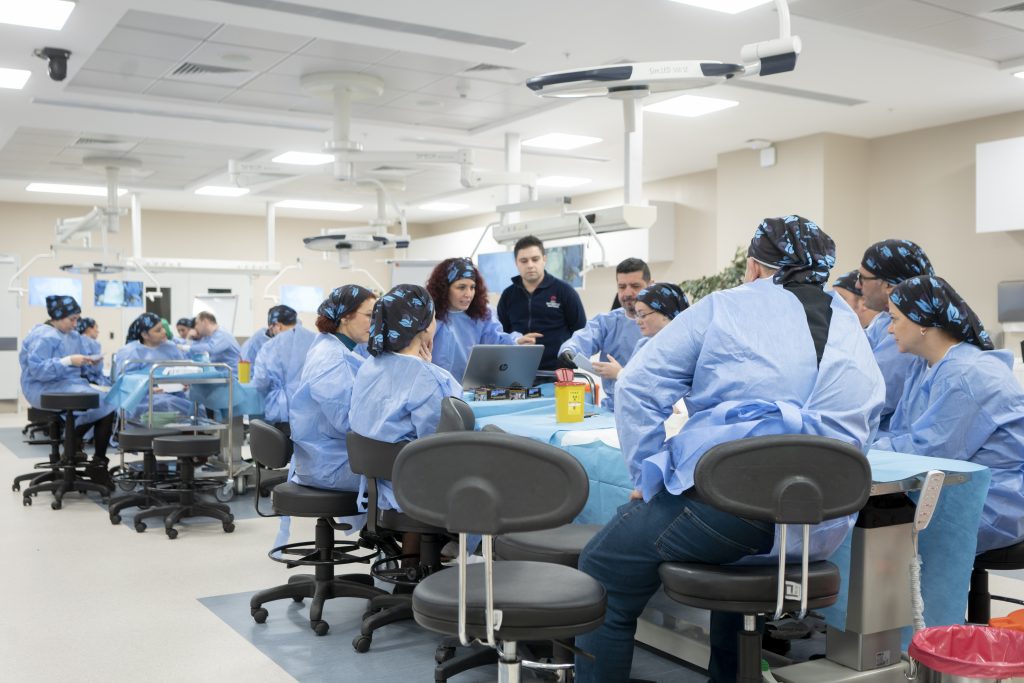 Advanced Interventional and Surgical Training Center features leading-edge, clinical-grade technology with two large training sections: Animal Dissection Lab and Fresh Frozen Cadaver Lab. Each lab has 8 plus one master station customizable to meet clients' needs and every working station is fully supplied with suction, medical gasses and equipment to simulate a traditional operating room.
A Dry Lab gives the opportunity to participants to learn fundamental technical skills (i.e. basic laparoscopic skills) on surgical simulators before performing these skills on real patients. A Robotic Surgery Operating room, with a robotic surgical skills simulator, offers participants to practice fundamentals of robotic surgery in a safe environment and provides an effective and efficient alternative to the intraoperative learning experience.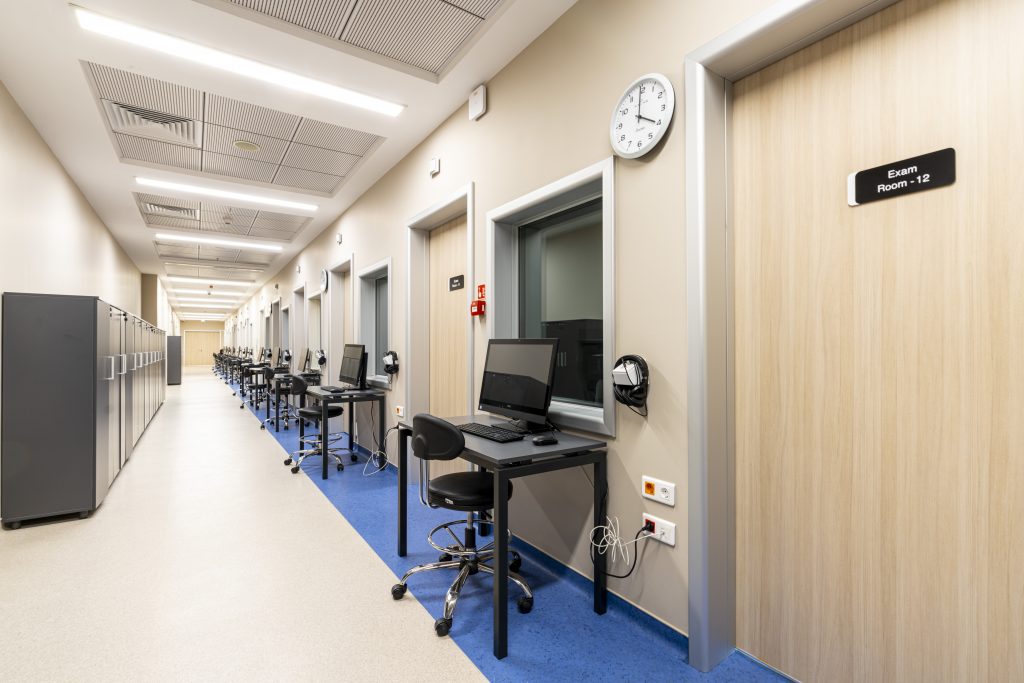 Objective Structured Clinical Examination (OSCE) and Simulation Floor with an area of 780m2 is composed by: 12 OSCE rooms, a multifunctional simulation room, a main control room, a waiting room (pre-brief area), 2 different sized debriefing rooms and a storage area. Each OSCE room has two entrances: one is through the students' hallway and the other is through the academics' vestibule. Three digital cameras and 2 microphones in each room record the examination sessions perfectly. Clinical interactions [in-person or virtual] with standardized patients, counseling, examination, history taking are all parts of OSCEs.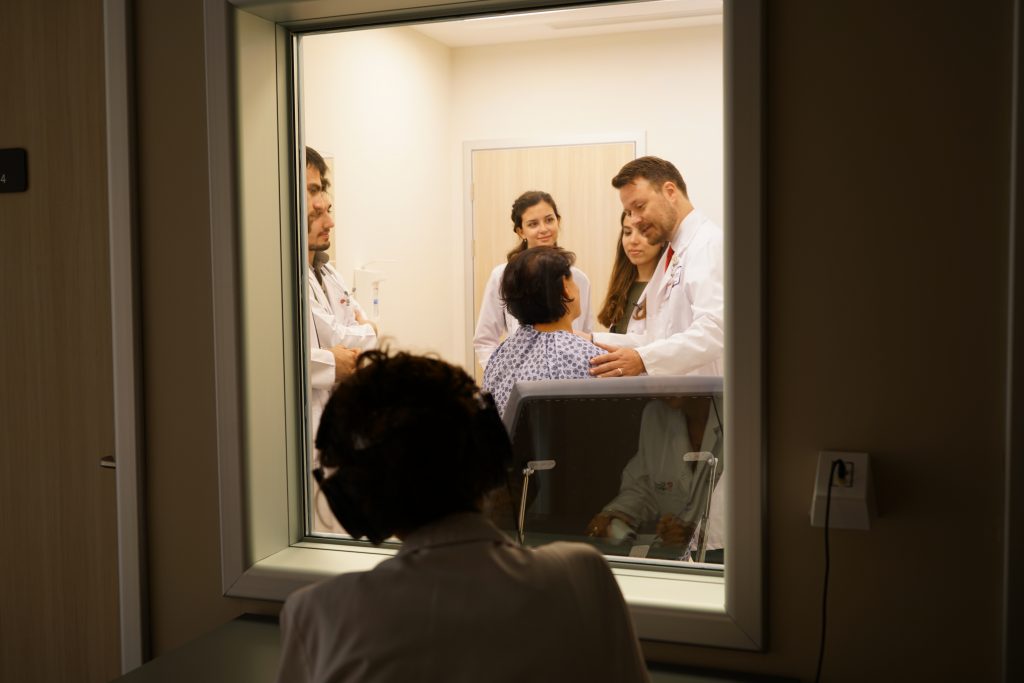 A Multifunctional simulation room can be set up as an operating theater, intensive care unit, emergency room, or hospital-grade patient room. Five cameras and 4 microphones give extensive video capturing and recording capabilities. Learners work as individuals and care teams to put into practice their cognitive knowledge in specific situations requiring critical judgment and quick assessment under stress and to successfully demonstrate hands-on proficiency and professionalism.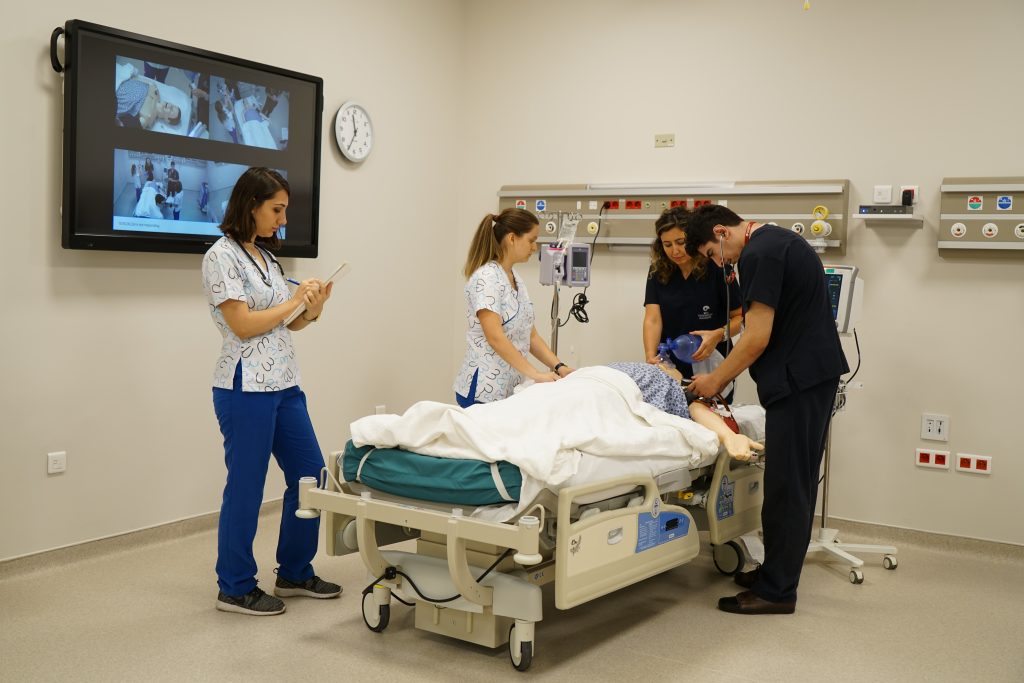 A Control room has a one-way mirror allowing facilitators and simulation technicians to see what is going on in the training room while keeping out the noise and distractions of the scenario. Located on this floor there are 2 Debriefing rooms allowing the other participants and instructors to follow simulation sessions simultaneously from wall-mounted smart TVs. These rooms are also used for post-scenario debriefing sessions.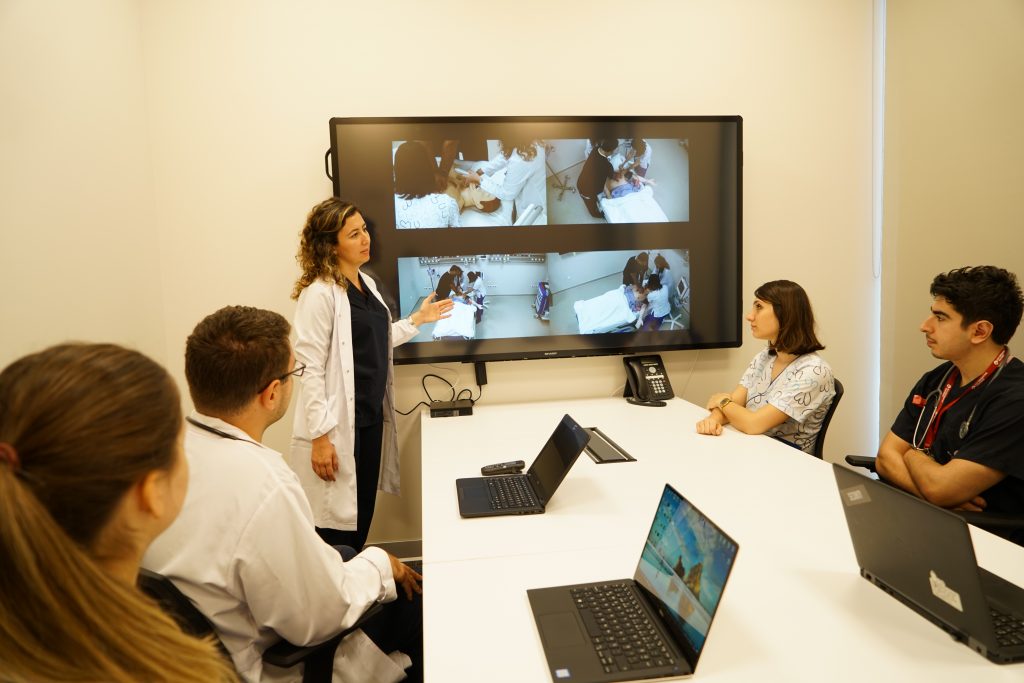 Skill laboratories are located on the third floor including two large spaces, as well as 9 private training rooms. Here, the students and professionals can practice specific skills on partial task trainers and/or low fidelity manikins to train both invasive and non-invasive clinical procedures and gain the skills' proficiency required for safe clinical practice.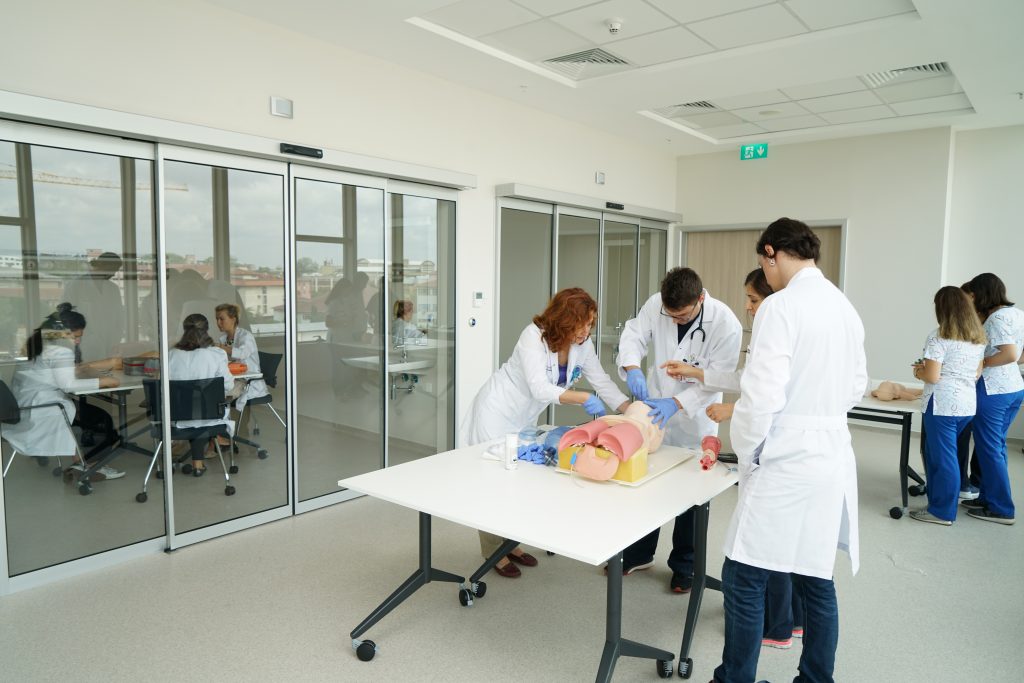 The fourth floor has an area of 850m2 which serves as a congress and meeting center according to customers' demand: a flexible multipurpose hall, 2 classrooms and 2 seminar rooms with different capacities and seating arrangements, such as ascending seating or level seating with desks and movable chairs. All rooms are equipped with the audiovisual technologies and HD video conferencing systems to provide live video feeds from Koç University Hospital rooms (i.e. operating rooms).
Services
Educational Services
RMK AIMES offers: International Observership Program, Postgraduate Fellowship Program [accredited by Koç University School of Medicine], Clinical Nursing Observation Program, providing under and postgraduates from around the world the opportunity to expand their knowledge and deepen their expertise by coming through clinical and research areas. RMK AIMES also offers certified courses, at national and international level. The center is accredited by the Ministry of Health for First Aid Training and First Aid Instructor Training and also it is an authorized American Heart Association center. It promotes and offers Basic and Advanced Cardiac Life Support as well as Paediatric Advanced Life Support Courses. RMK AIMES is also an accredited center for American College of Surgeons's Committee on Trauma Advanced Trauma Life Support Courses.
Meeting Assistance Service
RMK AIMES offers tailored professional health education and training for individuals and teams. Conference areas and meeting spaces can be used for a variety of events. The technical support by the audiovisual team is free of charge for on site or online activities. And professional administrative staff give clients complete course/meeting planning assistance services.
Consulting Services
RMK AIMES provides consultancy in the areas of simulation facility design, audio-visual and information technology, equipment procurement and financial modeling and planning.
READ ALSO