The simulation technician and high-fidelity scenario management with the help of non-specific technologies
Disclaimer: The contents of this article have the sole purpose of illustrating the choices made by the Mendrisiotto Ambulance Service in terms of hardware and software for setting up its Simulation Center. The Service and the authors are free from any conflict of interest.
Have you ever seen those guys with headphones filming themselves playing games on PC, followed by hundreds, thousands of online followers? For us, the simulation technician, after all, is quite similar…
In fact, managing a high-fidelity simulation is a complex process, but one that is very similar to what our gamer and YouTuber friends do: provide inputs to create content (be it a video game or a simulated medical scenario), acquire audio and images (as completely and faithfully as possible), organizing what has been acquired (to make it usable and understandable for your audience) and finally transmitting it (with all this work, it would be a real shame not to share the "product" ).
The effectiveness and efficiency of the technology used to create a high-fidelity simulation is undoubtedly one of the cornerstones of the success of your scenario.
There are multiple solutions, simple and complex, each with its potential and limits, to configure and manage the technology necessary to create a complex scenario.
This writer, from the extreme south of Switzerland, has decided to make the technologies used in the infinite world of online streaming his own and adapt their enormous potential to the creation of simulation scenarios.
Therefore, through this tutorial, we would like to share with you, the aspiring medical simulation streamer, the decisions made and implemented to prepare the Mendrisiotto Ambulance Service Simulation Center.
Created in a basement in 2016, in recent years it has undergone profound changes that have modeled its current structure (and have made it "go up" to the second floor).
The direction taken, with the aim of speeding up the start-up processes and at the same time guaranteeing the necessary flexibility, has led us to develop a system very similar to the one used by the aforementioned guys.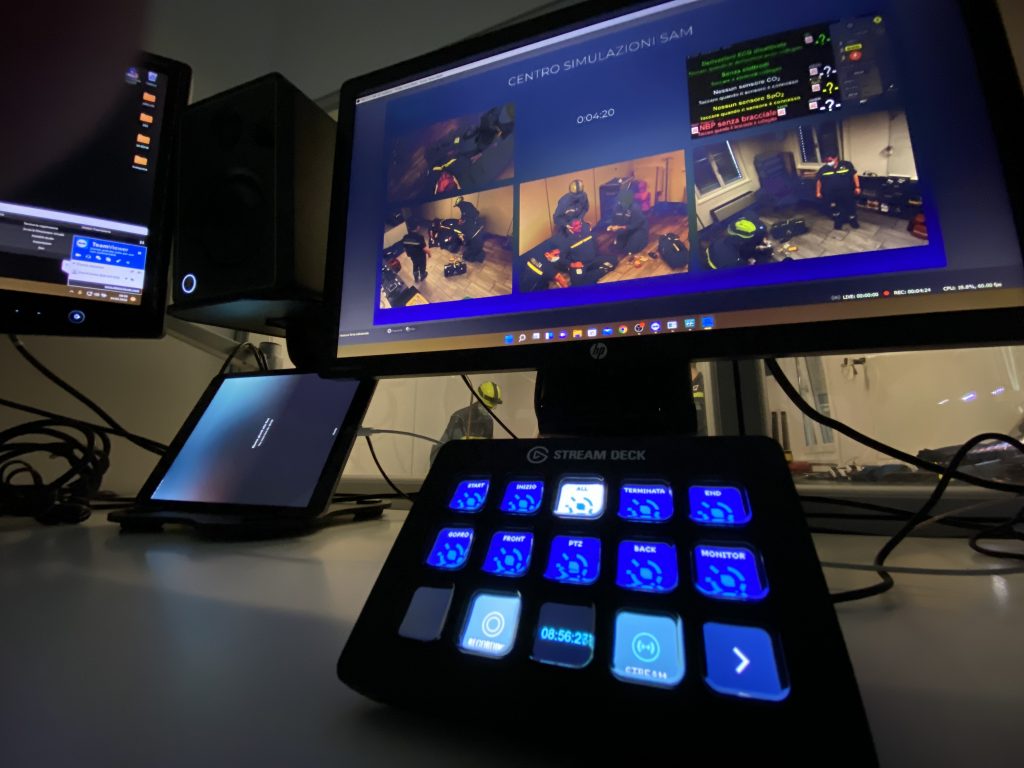 Here, then, is an overview of our choices in terms of hardware and software for running our Simulation Center.
OBS Studio
OBS. Studio OBS Studio is nowadays one of the most used software by streamers, gamers and youtubers to share their content online.
It is a free software, which can be installed on your PC and allows you to easily manage the recording and streaming of content from multiple audio and video sources.
It is the beating heart of the Center, everything revolves around it. It's like that friend who does not abandon you, even in the most complex situations.
Stream Deck
In a nutshell, a stream deck is simply a panel of buttons that allows the simulation engineer to quickly access the most useful controls to interact with the software needed to manage the scenario.
Time is money, and thanks to this hardware you will considerably speed up the management of a scenario. We can consider him the right arm of OBS, their synergy is successful and you can no longer do without it.
https://elgato.com/it/stream-deck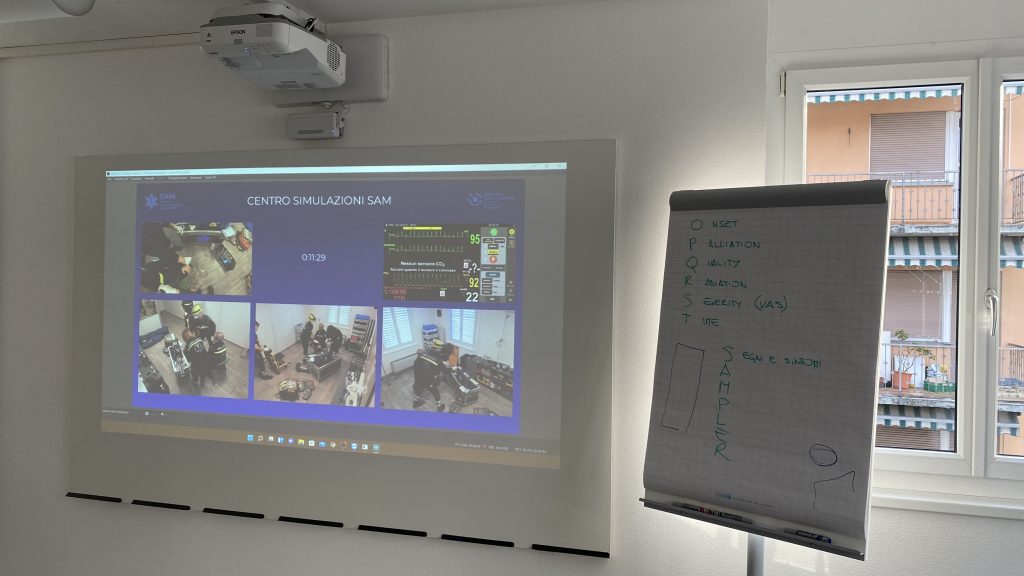 TeamViewer
Product designed exclusively to help non-computer savvy friends when they can't open a text file?
Definitely not!
The potential is infinite and in particular it allows us to obtain a replica of the screen on a tablet, turning it into a real touch-screen patient monitor.
Action CAM, for dynamic video sources!
Thanks to software such as Apower mirror or RTMP transmission, combined with a tablet and an action camera, our Simulation Center can offer a new privileged point of view for your simulations, making them first-hand experiences for those who observe.
In fact, this system today allows us to integrate into the recorded and streaming video archives one or more mobile points of view derived from images taken, for example, from an action camera mounted on the helmet of the team leader participating in the scenario.
https://apowersoft.us/apowermirror
https://it.gopro.com/help/articles/block/getting-started-with-live-streaming?sf92792173=1
No matter what happens, you decide how to customize and adapt your simulation center to your needs.
Hardware and software products are infinite, constantly evolving, and any technician or fan of advanced medical simulation, with a pinch of creativity, can achieve great results and build their own jewel.
The goal is still to be proud of your Simulation Center, thanks to which each scenario will become a unique and innovative training experience.
Authors:
Alan Zuccolo, Nurse in general care and professional graduated rescuer, Head of the SAM Social and Health Service, Technician and facilitator in simulation
Fidel Esteves Pinto, Nurse in general care and professional qualified rescuer, Technician and facilitator in simulation