The IMSH 2023 told by two medical engineers of the University of Navarra (Pamplona).
The Americans know how to put on a good show, there is no doubt about that, and the IMSH has confirmed it to us. The plenary sessions were like something out of a movie: the first two almost made us jump out of our chairs and shout "oh yeah" along with the other participants. The size of the event was enormous, 4,000 attendees; the number of sessions offered made it difficult, at times, to choose which one to attend and the exhibit was big enough to get lost.
Taking into account our profile as engineers (developing simulators), we focussed on the most technical part of the program. Despite the predominance of sessions related to teaching and management of simulation centers, some sessions focusing on technologies or the development of simulators were held.
Yes, something worth noting was the practical sessions in which we got down to work. Not only because of how entertaining it was, but because you meet new people with a different background and a different way of thinking. It reminded us how important it is to fully understand the teachers' needs and to be close to them when developing any simulator to meet their requirements and not oversize a project.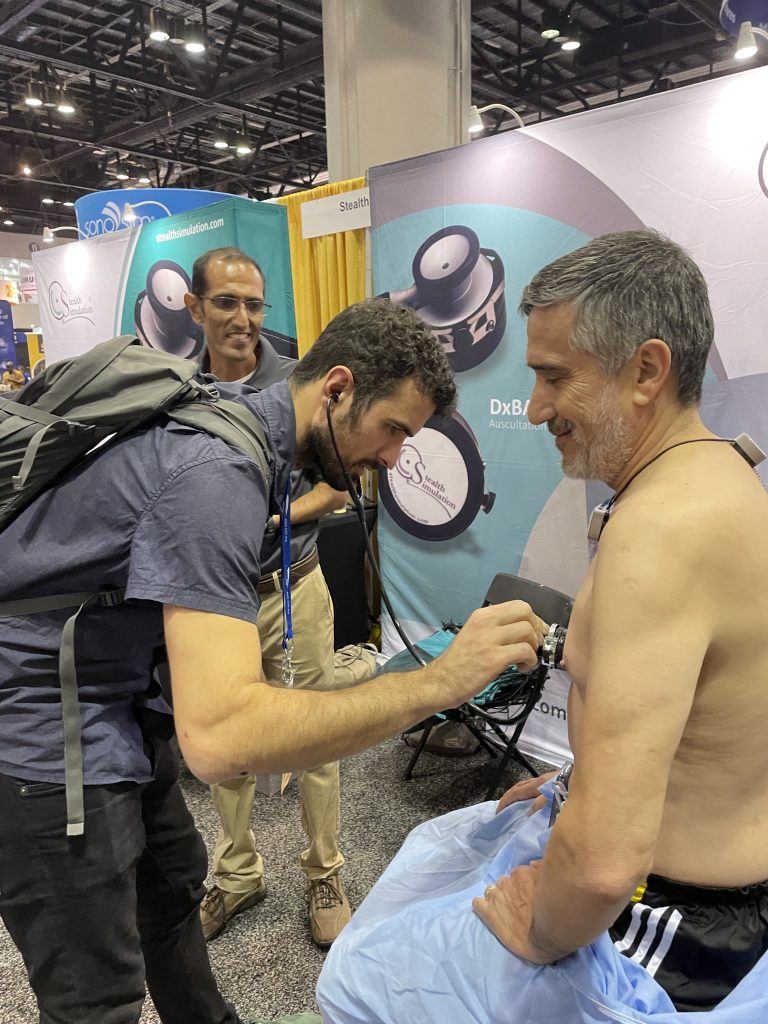 It is also important to be close to those who prepare, use and maintain these simulators; they know what really works and have brilliant ideas. In fact, we have seen how technicians are usually those who develop simulators in simulation centers. And in relation to this, one of the activities that we liked the most about the congress is what they call "SimVentors".
An area of ​​the exhibit was reserved for innovative simulators developed on many occasions by the technicians of the simulation centers themselves to meet the needs of their teachers, of which the best was awarded. The developers showed and explained to everyone who approached the need that the simulators covered, how they were used and, in many cases, how they could be replicated. We were left with the desire to have brought some of our simulators. In addition, we are sure that the work of any of our colleagues from other simulation centers in Spain could be at the level of what was presented.
Despite the fact that not all the solutions displayed had the same level of inventiveness and development, we understand that it is a good way to allow all centers to give visibility to their work,from those with more resources to those who cannot count on so much, so it was entertaining to see the proposals and comment on how other people solve problems, it is an important source of inspiration and motivation. It would be fantastic to have this type of space at SESAM and at national congresses such as SESSEP.
Within the exhibit, the companies displayed their entire arsenal: basic and advanced simulators, simulated scenarios, virtual-augmented reality (a lot, a lot… too much). It is very entertaining to see the solutions presented by the companies in the industry, discuss with them how they work, test the material, try to unravel how they do it and how we can transfer that to our ongoing or pending work. Of course, also compare the commercial results with our solutions to know how we are positioned.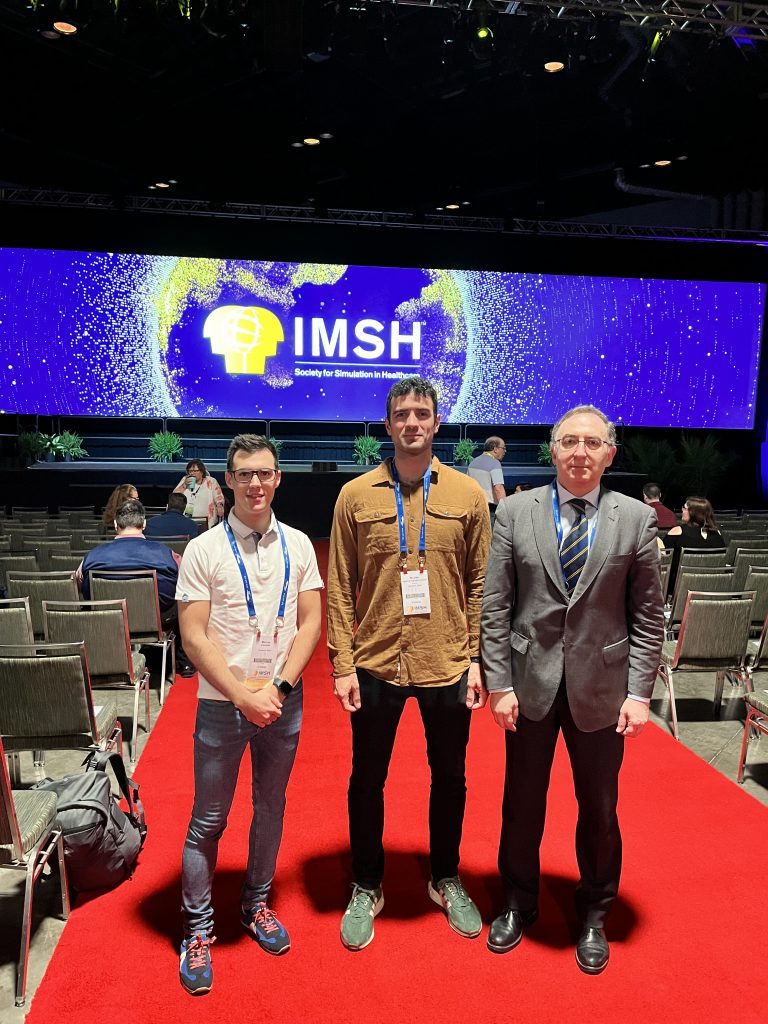 We looked for products that the simulation center of our Faculty had commissioned us and we filled the backpack with catalogs and souvenirs. We spent hours there and didn't get to try everything, but we were happy to see surprising solutions, and not exactly related to virtual-augmented reality. We understand that it is something new and that it sells, but we believe that it has too much prominence. On a technical level it can still improve but, above all, VR still has a long way to go to meet the teaching requirements that traditional simulators achieve. Sometimes it seems that there is not a clear understanding between the needs of the centers and the currents of innovation of the companies.
The most remarkable thing, as is usual in congresses, is the contact with people. You get to meet, chat and share experiences with people who have your same concerns and objectives and come from places like Israel, Singapore, Ecuador… We saw that we were not the only engineers, we met Serena Ricci and Mara Coduri, both from the University of Genoa, with whom we could share our engineering point of view about the congress. In a few years we will return, "SimVentors" awaits us!
READ ALSO