Our Simulation Technician Antonio Scalogna tells us about the choices he made in setting up the simulation rooms at the SIMNOVA Simulation Centre
Audio-video systems allow simulations to be recorded for teaching purposes and later review. This allows medical professionals to analyse their performance, identify areas for improvement and enhance clinical skills.
In general, the integration of audio and video systems in medical simulations creates an immersive learning environment, improving the effectiveness of training and preparing healthcare professionals to handle complex and critical situations in real practice.
There are many companies that specialise in recording and streaming simulation scenarios, adding many more functions in addition to the two main purposes.
Having to take care of setting up the simulation rooms at the SIMNOVA Simulation Centre, I made a fairly drastic choice, namely not to rely on those companies, for two reasons: technical and economic.
The first is not to be relegated to a choice of products such as video cameras, mixers and whatnot, and also not to rely totally on the software; the second is to have an essential system without the need for subscriptions or licences per device.
In particular, under the advice of the Prase company, I relied on AREC and DANTE, the first is a brand that produces cameras, encoders and decoders; the second is a protocol, an acronym for Digital Audio Network Through Ethernet, which is quite explicative, i.e. audio transmission through the network.
AREC
As per the title, in this article I will write about streaming and room recording, and in this field I have relied on AREC, a brand recommended by the company Prase, in which they are investing so much.
I read a lot about this company and I have to say that I liked it a lot, because the whole thing can be easily summed up in two devices: encoder and decoder.
What differentiates the devices from each other are:
quantity of inputs
mode of interaction
type of inputs
type of output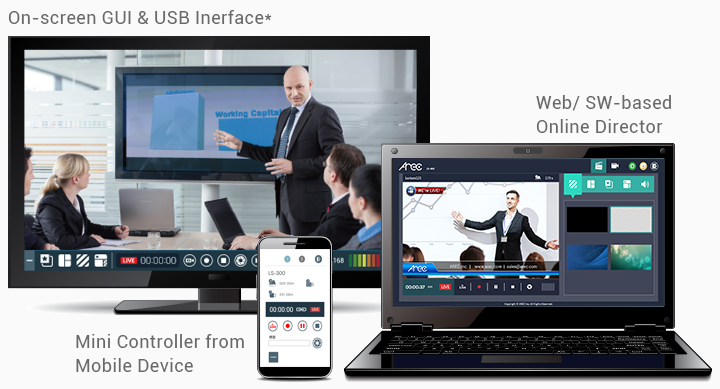 Features
All mediastations have 3 sections:
Administrator: allows you to customise and manage every aspect of the mediastation, from inserting the various video inputs, to managing the output, themes and system configuration.
Online Director: through this section you can customise the output of the mixed video, i.e. the one with all the necessary inputs, layout and chosen theme.
Video Manager: In this section we can review the recorded video, including each source recorded separately, and for convenience we can activate a backup of the videos directly on Google Drive.

One merit of AREC is the amount of material made available, totally free of charge, from complete guides to free software that allows total management of all simulation rooms, for example: the Online Director application (Mac and Windows), Station Manager (Windows only) and, also Windows only, Station Firmware Update Manager. Of course, most of the functionality they offer can be replicated via the online platform or other totally free tools, but, in my opinion, it is always better to have a dedicated software.
Each room is set up with:
AREC LS-860N or LS-300 (depending on the number of inputs needed)
Decoder to display the stream
Ceiling array microphone from Shure with DANTE protocol
Shure audio matrix switcher also with DANTE protocol
Dante Protocollo
The Audio Dante protocol is an audio-over-Ethernet network protocol developed by Audinate. It was introduced to simplify and improve the transmission of real-time digital audio streams over standard Ethernet networks.
The main objective of DANTE is to enable the transport of high-quality, low-latency audio over an IP network. This is particularly useful in this professional context where audio signals need to be sent over long distances, classrooms, conference rooms, and various public address systems.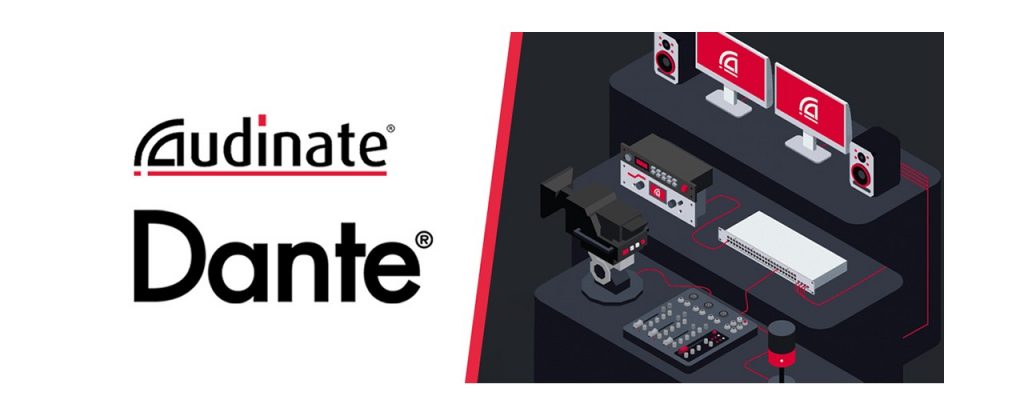 Here are some key features of the DANTE Audio protocol:
High-quality audio transmission: DANTE supports 24-bit audio and sample rates up to 96 kHz, ensuring uncompromised audio transmission.
Low latency: Latency is kept to a minimum, often less than a millisecond, allowing perfect synchronisation between different devices connected to the network.
Easy installation and configuration: The Audio Dante protocol greatly simplifies the installation and configuration of audio devices in the network. Most Dante-compatible devices can simply be connected to the network and will be recognised automatically.
Compatibility: Dante has become a de facto standard in the professional audio industry. Many audio device manufacturers offer Dante-compatible solutions, allowing a wide choice of interconnectable equipment.
Scalability: The Dante network can be easily extended to include a large number of audio devices, providing effective resource management and the flexibility to expand the system in the future.
Security: Dante includes security features to protect the audio network from unauthorised access and to ensure that audio streams are only transmitted to authorised devices.
Interoperability: DANTE is designed to work seamlessly with other audio technologies and IP networks, enabling interoperability with other audio protocols and standards.
To use Dante, audio devices must be equipped with an integrated Dante chip or an additional Dante interface card. These devices can be connected to a standard Ethernet switch, which forms the basis of the Dante network. Specifically within the Simulation Centre, I planned to insert a Shure array microphone with an ANIUSB audio matrix in order to bring audio into both the AREC encoder and the director's audio mixer.
In conclusion, Dante is a reliable, flexible protocol that enables high quality audio transmission and AREC is a brand new to the world of streaming and recording equipment but extremely flexible, at a fairer price. The combination of these two brands has greatly simplified room design by allowing complete monitoring of all placed systems.
READ ALSO