From the field exercise, some practical indications of moulage to reconstruct
blast injuries
A truly exciting simulation experience saw Simannu take part in the exercise that took place in Sardinia under the name "Bentu Estu 2021".
As a single large team, coordinated by General Olla of the Sardinian Army Military Command, the various civil and military components simulated extremely realistic and complex emergency events that could affect numerous places in Sardinia (fires, explosions, floods, industrial accidents , road and even more).
Experience has confirmed the importance of developing and consolidating a close synergy between all the agencies involved in scenarios of this type, but also of discovering highly innovative realities of scientific research and technological development that can contribute significantly to the conception and development of new and modern simulation systems (CRS4 – Sardegna Ricerche, 3D Aerospace, Meteotracker, Acyourate, Advanced Training Centers with Simulation).
On December 3, a work meeting was held at the Teulada Barracks, in which the Undersecretary of Defense reaffirmed the importance of consolidating a close synergy between all the main actors involved in emergency management, and hopefully replicating it in the rest of the national territory. Our contribution was defined by General Olla as "absolutely useful and winning on-the-job training".
Our participation (https://www.youtube.com/watch?v=N8V7ngGsCdM)
starring Bobore (Hal Combat s3040), strictly in military uniform, who after a long trip (photo 1) to the Teulada Barracks, in the company of the Maneskinhttps://www.youtube.com/watch?v=Cb6IXlX5jSwvoluntarily submitted to the model made for him by Gianfranco and Paolo (photos 2, 3, 4, 5).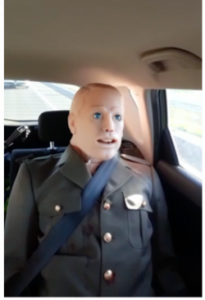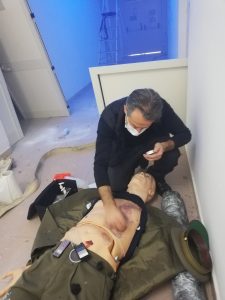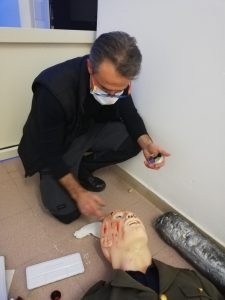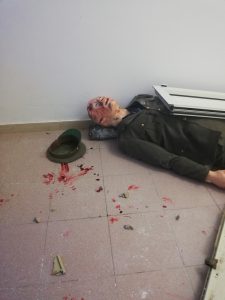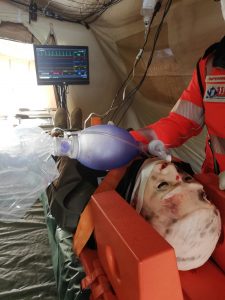 Bobore pretended that he was the victim of an explosion to astonish all the present guests and it must be said that he succeeded, given the honors and the numerous visits received!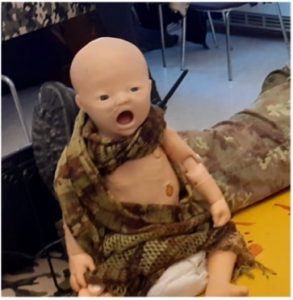 Now we tell you how we organize ourselves: from the night before we prepared Bobore and his suitcase with the uniform and the amputated limb. We also chose to bring little Larentu (Newbord Hal) with us (photo 6) and wrapped him in a military scarf. Finally, it was decided to bring a large screen on which to broadcast the videos of the different simulations.
To be proactive (the unexpected never fails!), we thought it appropriate to resume the work of the previous night preparing silicone wounds (photo 7), which we will talk about in depth in the next issue of SIMZINE.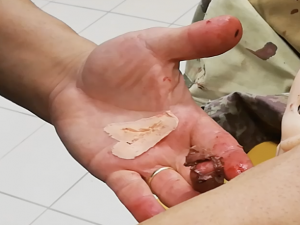 At this point we only had to assemble the toolbox, with everything necessary to complete the moulage the next morning:
color palette with reds, grays and violets
light cream foundation palette
loose powder Photo 7
dark blood in gel and liquid
latex
ground coffee and soil
glycerin emulsified with water (in spray bottle) for sweaty/wet effect
paper to dry
bowls, various spatulas, brushes, sponges, cotton swabs
detergents and disposable gloves
hair dryer
Taking into account that Bobore was the victim of an explosion, the camouflage suit was ripped at chest level, moulage was done on the chest and face creating burns (https://simzine.news/it/tech/sim-garage/qualche-trucco-per-il-trucco/), of explosive and blunt instruments.
We started by applying two layers of latex to the entire surface of the face and ears, also covering the silicone inserts to help hold them in place. The wounds were made by peeling off small pieces of latex and applying the gel blood, which, when combined with the pieces of latex, tends to dry out, making the effect more realistic. We complete by applying liquid blood, various dirt (neck, teeth, ears) and emulsified gelatin. This is the final result: photos 8,9,10
In the video (https://www.youtube.com/watch?v=5Kf4Ly1In-c) on makeup removal you will discover… what is hidden underneath… (but we will talk about that in the next issue)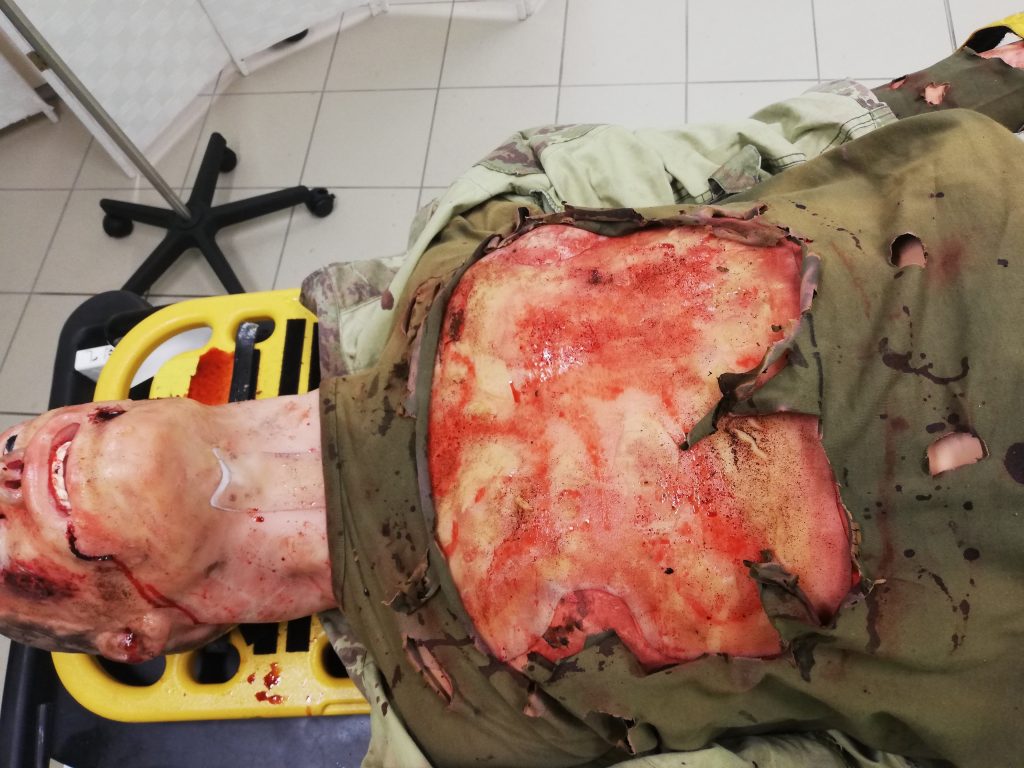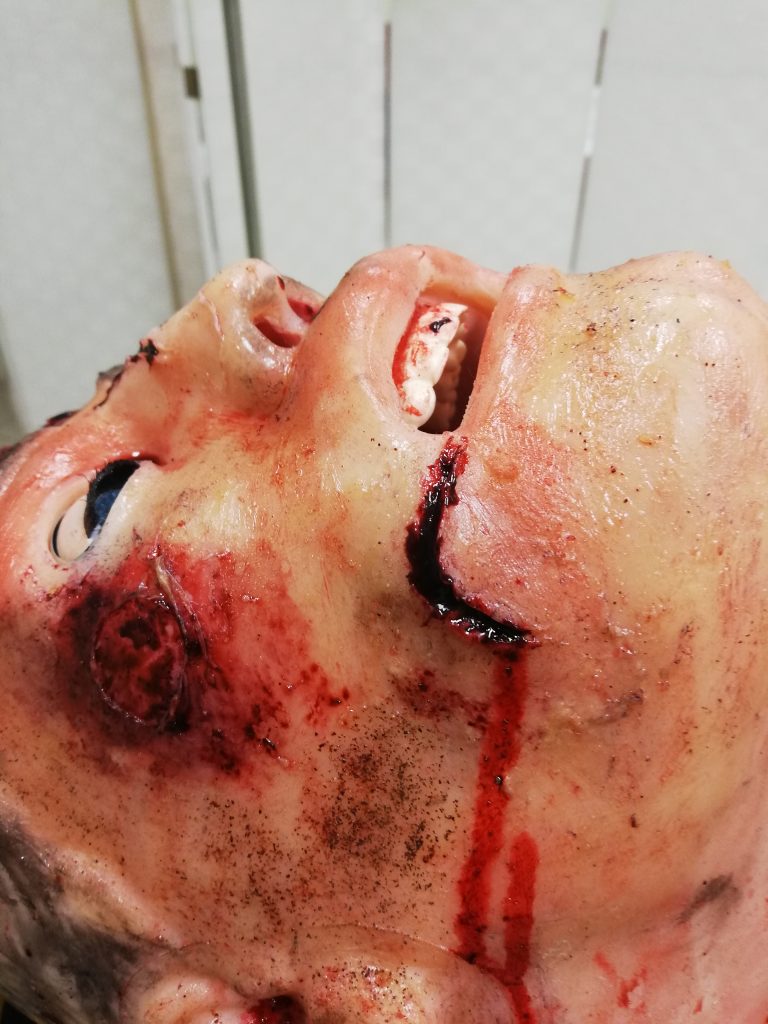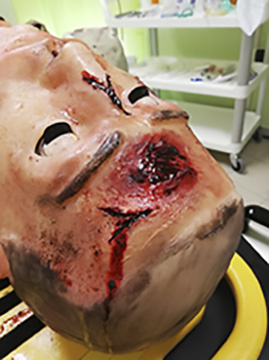 A makeup trick:
If you find yourself without modeling paste, you can use Galbanino-type cheese, which is covered with microcrystalline wax that, like plasticine, lends itself well, with the help of a heat source, to being softened and modeled (photos 11, 12, 13, 14,15).
At this point you just have to add and mix the cream makeup base of the color closest to that of the surface to be treated with the wax (photos 16 and 17) and proceed to moulage. Good luck to all… and to the next issue!!