SimUni involves teams of medical students from all around the world competing in urgent medical scenarios. The 2022 winning team tells us about their experience.
It all started with a group of friends' interest in emergency medicine, powered by a local simulation competition for medical students in Coimbra, Portugal. Since the beginning of this journey, me, Inês, Patrícia, and Viktoriya, understood that simulation is the key to a safer and fruitful learning environment and consequently to safer medical practice. SimUni made us acknowledge that even more.
SimUni involves teams of medical students from all around the world competing in urgent medical scenarios with a virtual patient. In Sevilla, during the 27th Annual Meeting of SESAM (Society for Simulation in Europe), the selected teams were tested in two very different cases, the last being the one that pushed us to the limit.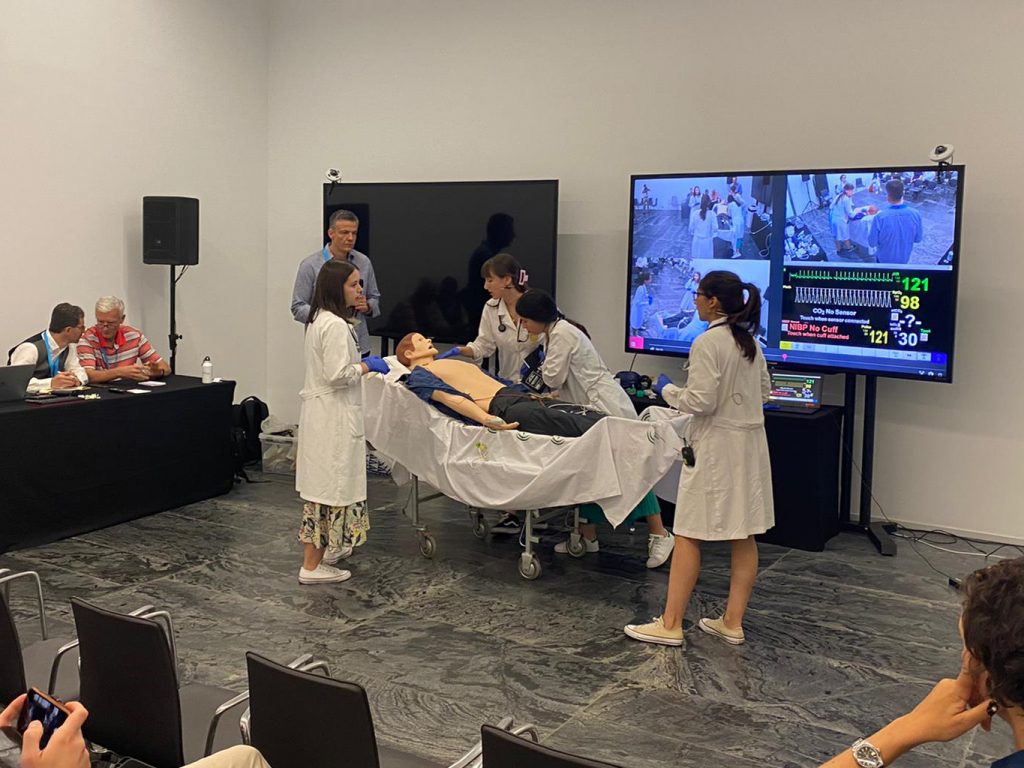 Despite all the simulation factors, at that moment everything feels real. Therefore, the clinical interview, physical examination, monitoring, technical skills, and every other procedure are done as in a real-life scenario. Although the proper management of the clinical situation is essential, the biggest challenge in the last scenario was handling an intrusive family member who disturbed our team dynamics and forced us to make unforeseen adjustments.
In this context, the stress and adrenaline are the same as in an actual ER, and the communication and set challenges are equally realistic. Although we trained several clinical cases, there are always unexpected situations that defy theoretical knowledge and take us out of our comfort zone. When the simulation ends, we get a sense of relief but also the realisation that once again we acquired new high-quality knowledge. The final debriefing is a major contributor to this learning process: discussing the clinical case, explaining certain decisions and clarifying doubts from both sides – judges and competitors – have an extremely important role. Often, there is no right or wrong, but the best approach to that specific patient.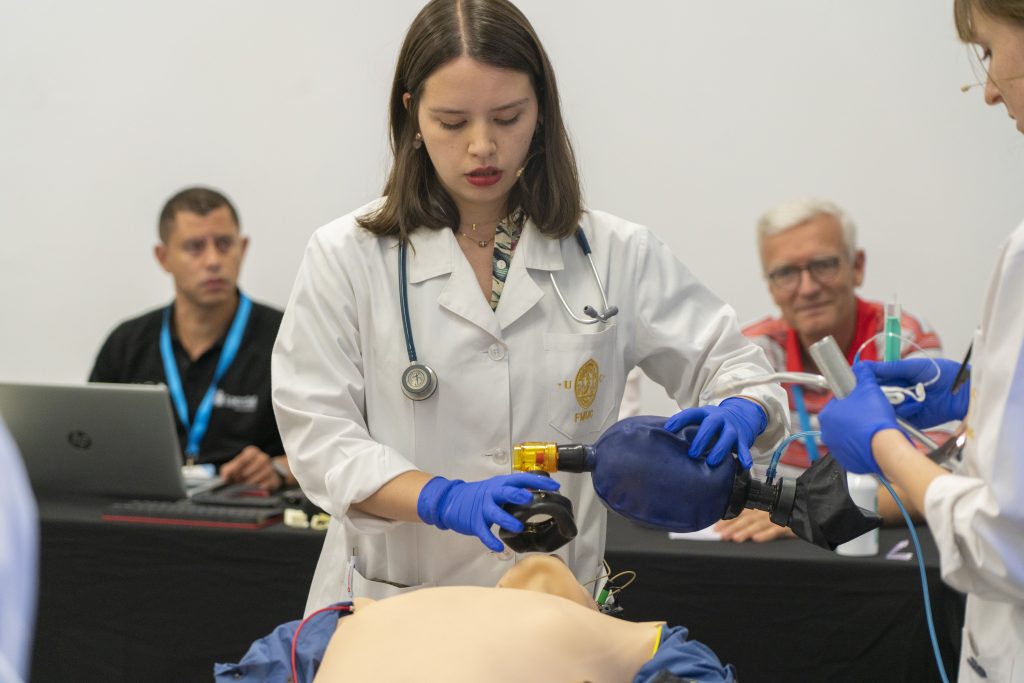 Both in competition and in training, the enthusiasm from all intervening was contagious. We practised, as a team, on our own, coached by colleagues, and by a tutor (a doctor experienced in emergency medicine and pre-hospital care). In every scenario we acquired new skills and insights.
«The experience was enriching from day one: we managed to improve our theoretical, practical knowledge and even non-medical skills such as mutual help, team spirit, flexibility, and trust»
states Patrícia, another team member «Throughout this journey, we realised that, although the difficulty of the cases gradually increased, we were always able to solve them if we remained cohesive. It was undoubtedly a time of personal and professional growth, surrounded by lots of fun».
Besides the technical part, I believe the biggest purpose of the competition is to promote non-technical skills such as communication, situational awareness, role assignment, dealing with sudden changes, and teamwork, which oddly are the hardest to train and retain.
Inês adds: «SimUni gave us the opportunity to think and learn in ways we wouldn't have in any other scenario. The repetition in training cemented the knowledge on how to act in emergent situations and the competition aspect provided realism. Our path from Coimbra to Sevilla was thrilling and similar experiences would be an asset in medical education worldwide. Local, national, and international simulation competitions are excellent ways to increase medical students' interest in emergency and this fantastic way of learning».
We understand that simulation is not only for students and that including non-technical skills in training for doctors may be challenging, but it has a large long-term benefit for the patient, healthcare professionals, and the institutions. To be surrounded by people who share the same passion for a better, stronger, and safer medical practice stimulates every one of us to keep learning (and eventually to teach) in this active way and encouraging others to do so, as well.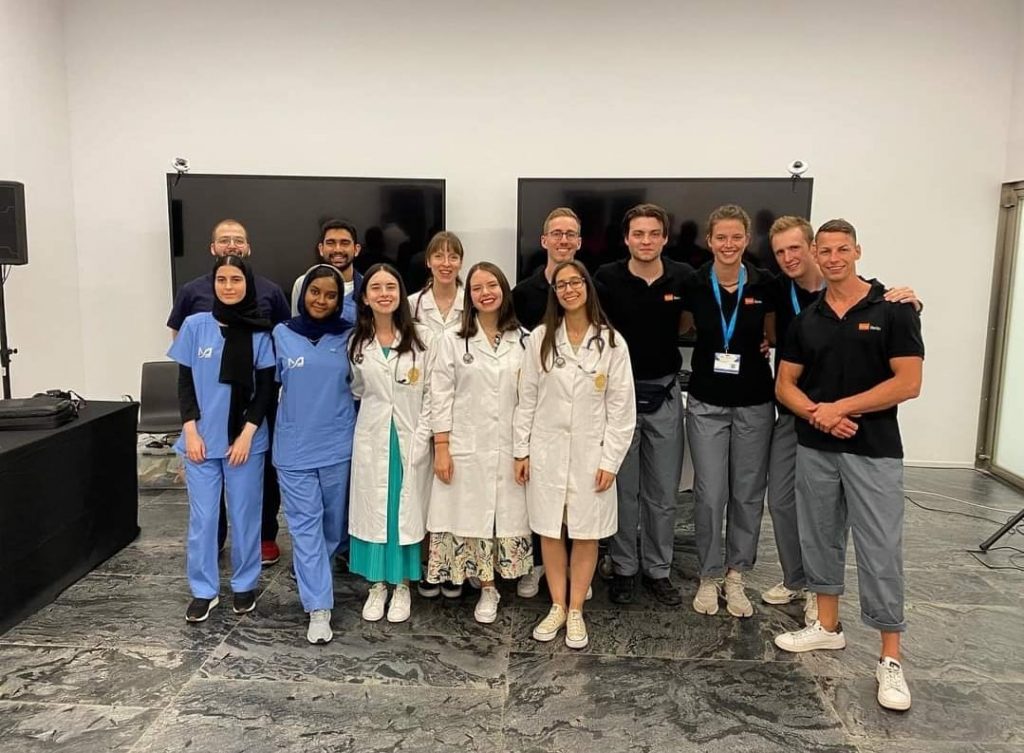 During the SimUni we absorbed every feedback, comment, and teaching from the experts and the other teams. Being in touch with medical students from various countries was one of the best parts of this adventure. We had the privilege to meet colleagues from Germany and the United Arab Emirates in person, with different backgrounds, experiences, teaching methods and consequently particularities in technical and non-technical approaches to the patient, from whom we learned a lot. Ending with Viktoriya's point of view,
«not only is it a great opportunity to discover new ways of working, but also to establish connections with people that are passionate about the same things that we are.
Networks such as these can be of high interest in future projects, whether personal or not».