SShADoW is a new and standardised guiding tool to supports instructor-trainers throughout the process of supervising simulation and debriefing activities.
Guided self-reflection and direct feedback are well-established strategies to facilitate learning in simulation-based education (SBE). These strategies are also commonly used in faculty development programs, to enhance learning for both basic or continuous training of SBE-instructors.
There are several facilitator feedback ratings tools, developed to measure debriefing quality. Although these tools serve their purpose well, they are difficult to apply in formative contexts, and only address the debriefing component. Considering this need, a non-rating tool with an overarching structure was developed: SShADoW – Supervising Simulation And Debriefing Wisely.
What is SShADoW?
SShADoW is a standardised guiding tool (cognitive aid) that supports instructor-trainers throughout the process of supervising (or shadowing) simulation and debriefing activities. Its aim is to provide guidance for a structured and standardised reflective conversation on the simulation experience. SShaDoW is compiled in 2-pages and includes diagrammatic representations of each section, for easier interpretation and application.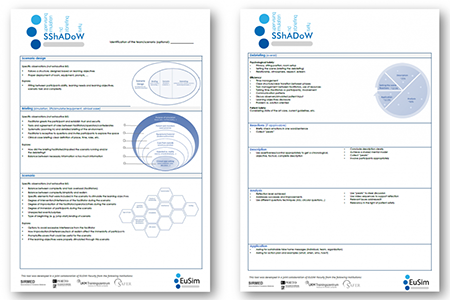 How to use SShaDoW?
The tool was structured to cover the most relevant aspects of a simulation activity, including all phases (from scenario design to debriefing – see the "egg" model [Fig 2]), through an integrative but flexible approach. SShADoW was primarily developed to be used during simulation instructor courses, although it is expected to be also applicable in longitudinal faculty development programs or as a self-development strategy.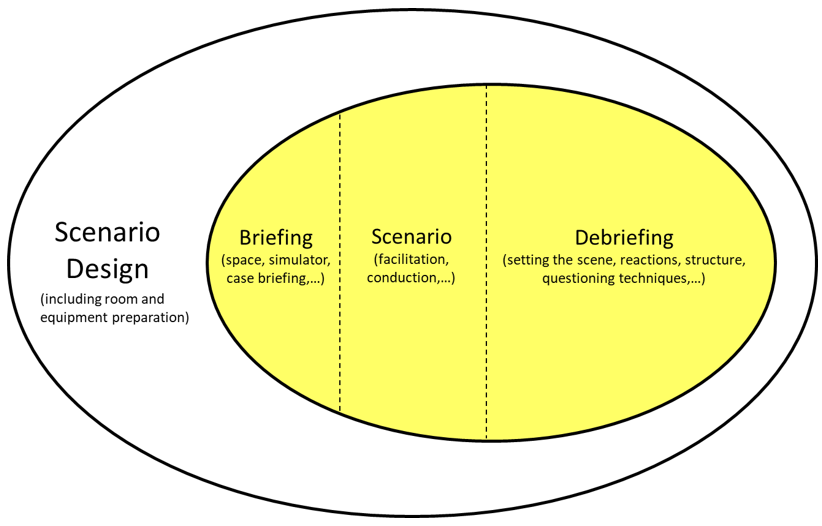 As in any SBE activity, psychological safety should be guaranteed: the application of this guidance tool should be agreed upon and discussion should be handled with appropriate confidentiality. It is recommended to determine the observation focus before the activity. The tool was sectionally structured, to be adaptable to a course program (e.g. allows focus on specific aspects or the overall activity, based on the learning objectives) or adaptable to individual learner needs (e.g. peer-feedback with previous agreement on the aspects to discuss). See examples of use below.
Example 1:
---
On a 3-days instructor course (e.g. EuSim Level 1) the application of the tool would have different focuses throughout the course. On day one, it could be used to observe the first debriefings attempts, focusing on the debriefing structure and time management. On day two, with participants developing and applying their own scenarios, it would observe the full process: scenario design, briefing, scenario conduction, and debriefing. And, on day three, where participants re-run their scenarios, it could be used, focused on the debriefing, to explore different questioning techniques.
Example 2:
---
In a peer-feedback situation, an instructor would ask a colleague to observe a specific aspect of his performance (e.g. if the briefing was structured and comprehensive; if he appropriately involved observers into the debriefing, etc).
Example 3:
---
In a personal development strategy, an instructor would record the activity (upon requested permission) and would use the tool for self-assessment.
After the observation, a dialogue between the involved persons should elaborate on the established/agreed key issues. The supervisor is free to choose any underlying model for structuring the conversation, alternating guided self-reflection and directive feedback.
Directive feedback is particularly useful to provide objective guidance (e.g. structured briefing; time-management; etc), allowing a timely discussion. It is also useful with novice learners that lack knowledge and experience in a certain topic and for whom self-reflection can be difficult to achieve.
This tool was developed in a joint collaboration of EUSIM Faculty. Suggestions and comments are most welcome: sshadow@med.up.pt. More information about EUSIM group: www.eusim.org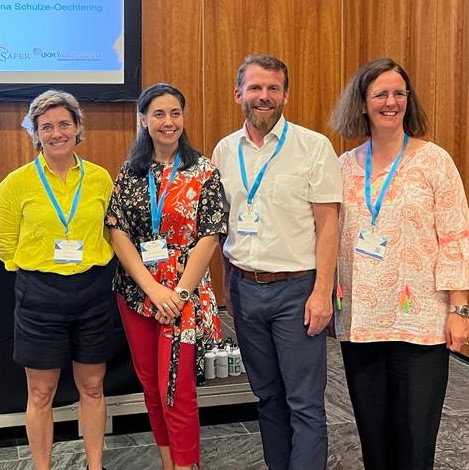 Learn more and download SShADoW : https://sshadow.med.up.pt/